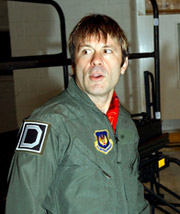 Iron Maiden rock singer Bruce Dickinson turned superhero on Saturday to rescue British holidaymakers left in Egypt
(1)
_____ Britain's third largest tour operator collapsed.
The heavy metal hero, who is also a Boeing 757 pilot,
(2)
_____ a specially-chartered Monarch Airlines flight from the Red Sea resort of Sharm el-Sheikh in Egypt to London Gatwick Airport.
XL Leisure Group, the tour operator,
(3)
_____ on Saturday, leaving some 85,000 British holidaymakers stranded abroad.
(4)
_____ almost 12,000 people have been brought back as part of an airlift mission.
"I
(5)
_____ my job. I was called out like a lot of other pilots to help and I was honestly happy
(6)
_____ that," Dickinson said.
Dickinson, 50, said next he was off to the Greek island of Kos to rescue
(7)
_____ stranded holidaymakers.
The Iron Maiden frontman
(8)
_____ a captain with Astraeus, a British charter airline, for nine years. He qualified as a pilot in the 1990s.